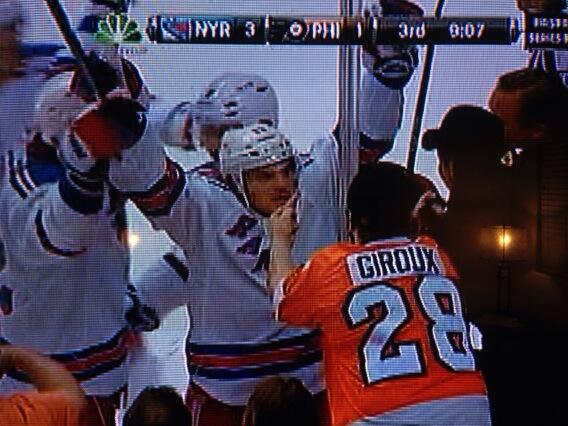 All around great game. The beginning was very reminiscent of game 2 when they went up 2-0 and let the Flyers get a quick one before the end of the 1st period. Was getting kind of nervous, especially since the game was in Philly. However the absolute ROCKET of a clapper from Girardi made me blast my excitement through my pants. Once they took a 3-1 lead I felt much more comfortable. That and I was quite drunk at that point too. But the story of the game was none other than this man right here…
Dan Carcillo. Who'd a thought? Dude 100% played the best period of his life in the 3rd period of last nights game. Matt Read gave him a dirty cheap shot when he elbowed him in the face and got no call, but Carcillo didn't miss a shift. Then a minute later Carcillo got called cause refs wanted to give the Flyers a chance to make a come back. Only excuse considering Carcillo didn't touch anyone. And right out of the box Carcillo had a beaut of a tip in which resulted in one of the best celly's these mitts have ever seen…
Huge, HUGE game on Friday. Rangers win and they go into the Garden with a chance to end the series. They lose and it becomes a best of 3 with 2 at home. Which, this season, hasn't been all that great.  Let's hope it's the former and Rangers send Geezus* to the links early.
– Silky Mitts
*Calling Giroux "Geezus" is one of, if not the dumbest nickname in all of sports. 1) He's canadian. 2) It doesn't sound like Jesus. Wanna know the only similarity? They have two syllables. 3) He's ginger. That probably should have been number 1.
p.s. That flow Carcillo's rockin might have to be Flow of the Week.